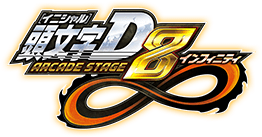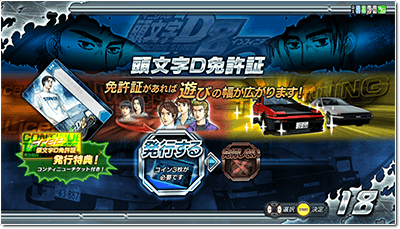 You can record of your car tuning and play data when you play with using the "Initial D Driver license".
Also you can play without using the "Initial D Driver license" but we recommend to play with using the "Initial D Driver license" because more enjoy the game.

* "Initial D Driver license" can be issued at the end of the game or the game immediately after the game start.

• Get Your Free Continue ticket!

Earn 1 Free Continue ticket at once a day that you can play only one continue of race a day.
"Continue ticket" is valid for seven days from the next day, so take advantage of it!
• Save the data, such as profiles and battle results!

Profile such as driver name, and various battle results and more variety of data can be stored.
You can continue play at "Legend of the Street" because save last stage of race.
In addition, "Time Attack Ranking" of World and In-Store battle records are displayed along with the driver name when you get record in the "Time Attack".
• Save tuning state of your cards up to 3 units!

You can save up to three cars which state of the parts are purchased, installed and tuned in the parts shop.
In addition, your can Free (re-purchase with no charge) to get some model of car which you purchased once before!
Keep continue to use car which is best of your favorite tuning that is good. Even change your car depend of situation then enjoy that good also!
• Customize My Character!

You can save My Character (avatar) that is displayed in the game screen.
You can get "My Character Parts" when playing Online/In-store Battle and Tag Battle plays. Let's customize your character and appeal your character which is only one in world!